Replacement toner for:HP 971XL (Magenta)
Compatible with:Officejet Pro X451, X476, X551, X578
Yield:7200 Pages
Color:Magenta
Remanufactured laser cartridges
Our laser cartridges are 100% remanufactured and guarantee a lower cost per page, the same print quality as with original consumables, as well as a smaller ecological footprint!
Laser colour cartridges: real expertise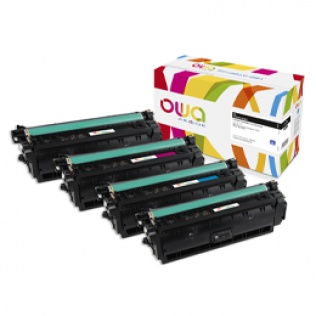 By maintaining full control over the whole of the complex manufacturing process ARMOR, the colour Laser cartridge specialist, is able to add to its development expertise:
Know-how tried and tested as a result of draconian specifications (selection of components – new OPC)
Testing on all components prior to final cartridge assembly
Continuous quality controls at each stage of the manufacturing process
Perfect product quality:
Well-managed quality that is recognised on the market
ISO/IEC 19798, NF environnement and Nordic Ecolabel
A selection of products certified to these standards
Thanks to its production capacity, ARMOR is in position to meet growing market demand.
Optimized cost per page, compared with original brands
With OWA, you can be sure of making an average 30% saving on your company's annual consumables budget as compared with purchasing original manufacturers' cartridges.
Our cartridges are tested and certified to have a yield at least equal to original manufacturer products'. Thanks to ARMOR's industrial expertise, our cartridges may even have a print capacity superior to that of original consumables: as well as making savings by purchasing OWA products, you can also print more copies – up to three times as many in some cases.
Calculating the cost per page reveals the true saving you make by buying OWA cartridges, and makes it possible to compare different product types' performances. For instance, with our high-yield "JUMBO" cartridges, you can make additional savings of between 15 and 50% per page as compared with standard versions.
Why such a price difference?
Remanufacturing a print cartridge is cheaper than making one from scratch. It requires less energy, and the raw materials are already there! Recycling and reconditioning are naturally more affordable solutions.
OEMs invest large sums in research and development to develop their printer product ranges. These costs have significant repercussions on the price of printer manufacturers' cartridges.
As a print cartridge specialist, ARMOR focuses its entire R&D budget on them, in order to offer you inks of a quality similar to OEMs, but much better value.
Cartridges tested and certified for print quality you can trust
OWA provides ARMOR industrial quality:
We design and manufacture our products ourselves: thanks to our own R&D centre and a certified manufacturing process, we have mastered this technology.
Our products are tested using the most rigorous procedures to guarantee the highest possible quality.
Our factories are ISO 9001 and 14001 certified.
OWA remanufactured cartridges: print quality and compatibility guaranteed
Our broad catalogue lets us guarantee compatibility with sets of professional printers. The results of tests, compliant with international standards, performed on a selection of OWA remanufactured cartridges demonstrate the print quality of our printer cartridges.
Peace of mind when printing
OWA laser cartridges come with a lifetime warranty, as ARMOR guarantees perfect operability and reliability for an unlimited period.
OWA inkjet cartridges come with a 3-year warranty, during which time our in-house services will respond to any problem that may arise.
An eco-friendly solution: reduce your environmental footprint
OWA is the guarantee of a reduction of your environmental footprint thanks to a process of valorization of the lifecycle of the certified and guaranteed product. A perfect example of a circular economy.
Opting for the circular economy
With the OWA offer, enter the heart of a new consumption model where no waste is produced.Preserving natural resources and anticipating the recycling of products are two founding principles of the circular economy in which OWA fits.
A range of eco-designed and remanufactured cartridges
Everything has been thought out in a responsible way, from eco-designed and recyclable packaging to the revaluation of cartridges collected in the form of remanufactured cartridges or secondary raw materials.
More than 75% of used cartridge components are reused.The rest is recycled into secondary raw materials.

An environmental impact halved for large capacity cartridges (compared to their standard equivalent).

Eco-designed, recyclable and reusable packaging made from recycled materials and FSC certified.
Quality and environmental eco-labels: ARMOR proves its commitment !
Deeply committed to sustainable development, OWA is now the only brand that can boast three different eco-labels : Nordic Ecolabel, NF Environnement and Blue Angel.
Blue Angel
A German eco-label indicating that toxic waste emissions per item are controlled and limits are strictly complied with. Blue Angel certification therefore ensures a reduction in waste products and conservation of natural resources, as well as stricter compliance with health and safety standards at work.
NF Environnement
Voluntary certification issued by AFNOR which entails limiting the product's impact on the environment throughout its life cycle. The product must also comply with environmental and usability criteria. Using "NF Environnement" products contributes to environmentally responsible consumer behaviour.
Nordic Ecolabel
Laser cartridges bearing this eco-label generate less waste and consume less energy and fewer raw materials.
The eco-label also focuses on product quality through recycling process quality assurance, labelling, and customer information.